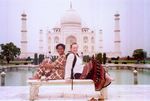 I was born in Warsaw, Poland and moved to Canada when I was 5. When I was 18 I lived in Moedling, Austria, and I got the chance to travel around Europe extensively. I guess I caught the travel bug then and ever since have been taking every opportunity to travel. I've had the chance to travel around India and Japan and I try to get to Europe at every opportunity I can get. From 2005-2007, I lived in Tuebingen, Germany and worked at the University there. As of January 2007, we have been living in Montreal, where I started my PhD, had two boys Lukas and Matthias, and helped plant an apple tree... In 2015 I finished my Phd, and began a postdoctoral fellowship at the Brain Imaging Centre, MNI.
Arts and Culture

While in Europe I also got very interested in Art, mostly fine art although living in Vienna you can't help but enjoy the operas, ballets and concerts. It was while there that I decided to do a degree in Art History and I managed to do a BA Minor while studying Computer Science at Queen's. In my fourth year, while taking an Art Conservation course, I became aware of the potential computer technology has in the field of art conservation. I hope to at some point get involved with a project that merges these two fields.
Literature
A few books I recommend (those I can remember right now anyway):
Memoirs of a Geisha by Arthur S. Golden.
To A God Unknown by John Steinbeck.
Sophie's World by Jostein Gaarder.
The Book of Laughter and Forgetting and Slowness by Milan Kundera.
The Agony and the Ecstacy by Irving Stone.
The Hitchikers Guide to the Galaxy by Douglas Adams.
Captain Corelli's Mandolin by Louis De Bernieres.
Snow Falling on Cedars by David Guterson.
The Shipping News by Annie Proulx.
In the Skin of a Lion and Anil's Ghost by Michael Ondaatje.
Microserfs and Miss Wyoming by Douglas Coupland.
Sports

I love the outdoors -- playing in the mountains, in the forest, on snow or in the water. I've been skiing since I was three and (following in my older brother's footsteps) I competed in freestyle skiing (on the NCD Freestyle team) at a provincial and national level. Nowadays I just try to get out hiking, skiing/snowboarding, playing squash or tennis, climbing or anything active as often as possible to get away from the computer monitor.